SPECIALIZED Jett 20 Single Speed Gloss Oasis/Forest Green
Kód:
92722-4220
Detailní popis produktu
Jett 20 Single Speed
Kids move fast, and grow faster. At times, it can seem like there's a small window for the perfect bike fit. The right bike for a young rider is a delicate balance between too small, too big, and a short-lived just right. If we're going to inspire the next generation of riders, we need to keep kids comfortably riding longer.
The Jett is designed so that you'll never fear the growth spurts. We did our homework to understand how kids grow—spoiler alert, kids' arms and legs grow more rapidly than their torso. We took to the books and designed a bike with child-specific touch points that withstand the development of young riders. The Jett is uniquely adjustable, perfectly proportional, and child-liftable—you'll always be set to Jett.
The Jett Single Speed features an adjustable handlebar that allows kids to fine tune reach as their arms grow. The narrower saddle and grips were informed by a Retül study on kids to be the appropriately size—with handbrakes on both the 16" and 20". And what's more, we designed the frame and reviewed every component to make the Jett one of the lightest bikes on the market. You're going to have to beg them to get off this bike.
We designed the Jett Single Speed to be uniquely adjustable with longer seatposts and adjustable handlebars so kids can dial-in the perfect riding position as they grow.
Every detail of the Jett Single Speed—including the 130mm Bridge saddle, narrower-diameter grips, and short-reach, tool-less adjustable brake levers—was informed by Retül data from a kids' research group to be perfectly proportional for young riders.
A lightweight bike is simply more fun and the Jett Single Speed's all-new A1 aluminum frame, alloy fork, Pathfinder tires, and single-speed drivetrain make it one of the lightest kids' bikes on the market.
Technické specifikace
FRAMESET
| | |
| --- | --- |
| Fork | A1 Premium Butted Alloy, Alloy steerer, V-Brake |
| Seat Binder | Bolt-type, 31.8mm |
| Frame | A1 Premium Butted Alloy, unisex frame, internal cable routing, 110x10mm dropouts |
COCKPIT
| | |
| --- | --- |
| Stem | 3D Forged Aluminum, 35mm length, 6 degree rise, 25.4mm clamp diameter |
| Handlebars | Alloy Mini Rise, Double Butted, 60mm Rise, 5-degree Backsweep, 580mm Width, 25.4mm Clamp Diameter, 19mm Bar End Diameter |
| Grips | Jett Body Geometry, 19mm Internal Diameter, lock-on |
| Saddle | Kids Bridge Saddle, 130mm |
| SeatPost | Alloy, 2-bolt, 14mm offset, 27.2mm, 280mm length |
BRAKES
| | |
| --- | --- |
| Front Brake | V-brake w/ tool-less reach adjust brake lever |
| Rear Brake | V-brake w/ tool-less reach adjust brake lever |
DRIVETRAIN
| | |
| --- | --- |
| Bottom Bracket | Square taper, Plastic cups, 113mm spindle |
| Cassette | 18t Freewheel |
| Chain | KMC Z1 EPT (Anti-Rust) |
| Crankset | Forged Alloy, Square Taper, Single Speed, w/ Chainguard |
| Chainrings | 34T |
ACCESSORIES
| | |
| --- | --- |
| Pedals | Nylon platform w/ reflectors |
WHEELS
| | |
| --- | --- |
| Rims | Alloy, 14mm Depth, 23mm Internal Width, 28H |
| Front Hub | Alloy, Loose Ball Bearings, Bolt type, 100mm Spacing, 28H |
| Spokes | Stainless, 14g |
| Front Tire | Pathfinder Sport, 20x2.0" |
| Rear Tire | Pathfinder Sport, 20x2.0" |
| Inner Tubes | Schrader, 32mm valve |
| Rear Hub | Alloy, Loose Ball Bearings, Bolt type, 110mm Spacing, 28H |
* Specifikace se mohou změnit bez předchozího upozornění
Tabulka velikostí dětských kol Specialized
Tato tabulka je skvělým výchozím bodem pro výběr vhodného kola pro vašeho jezdce. Jednoduše spojte výšku jezdce s jeho růstovým stupněm a zjistěte, které kolo je pro něj nejvhodnější.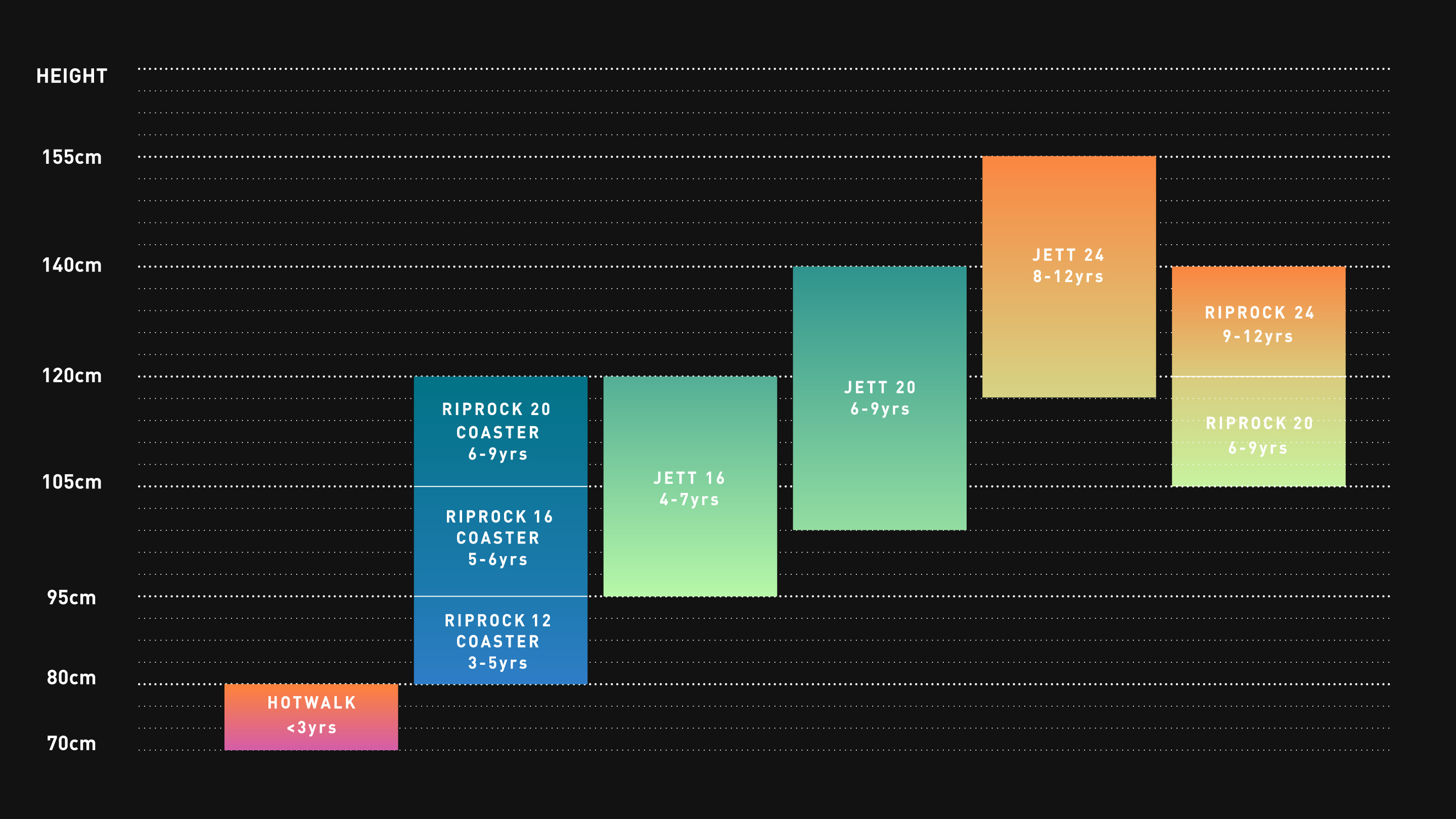 Jett - Geometrie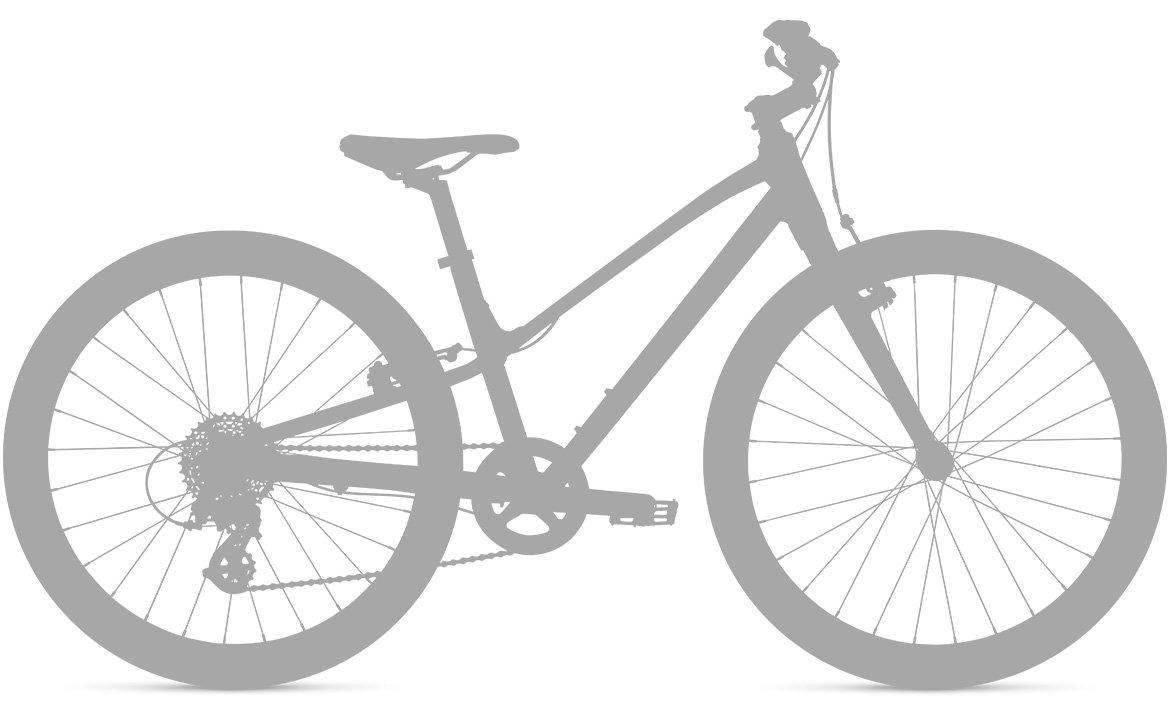 Délka sedlovky
130mm
Šířka řídítek
295mm
Stack (Výška od vrcholu hlavové trubky po středové složení)
828mm
Výška rámu v rozkroku
100mm
Vzdálenost přední osa – středové složení
40mm
Úhel hlavové trubky
57mm
Výška středu
350mm
Délka vidlice (celá)
73°
B-B Drop (vzdálenost mezi osami kol a středovým složením)
290mm
Délka horní trubky, horizontální
Odkazy
Buďte první, kdo napíše příspěvek k této položce.